LU_Touch® allows to minimize the possibility of contagion due to indirect contacts, preventing our hands from acting as a vector of contaminants or germs when performing common actions in our daily activity such as opening and closing doors and windows, or pressing buttons and switches.
This version of LU_Touch® is made with an antibacterial material that, thanks to the copper nanoparticles it contains, damages and alters proteins that act as a protein inactivator through RNA, useful for deactivating viruses such as herpes, HIV- 1and SARS-CoV-2, the causative agent of COVID-19 disease. Advances in nanotechnology research have shown that antimicrobial and viral inactivation mechanisms of copper are improved by using these nanoparticles in thermoplastic matrices.
In this way, LU_Touch® antibacterial, after a few hours, deactivates itself possible viruses that may have established on its surface, not making its continuous disinfection so necessary.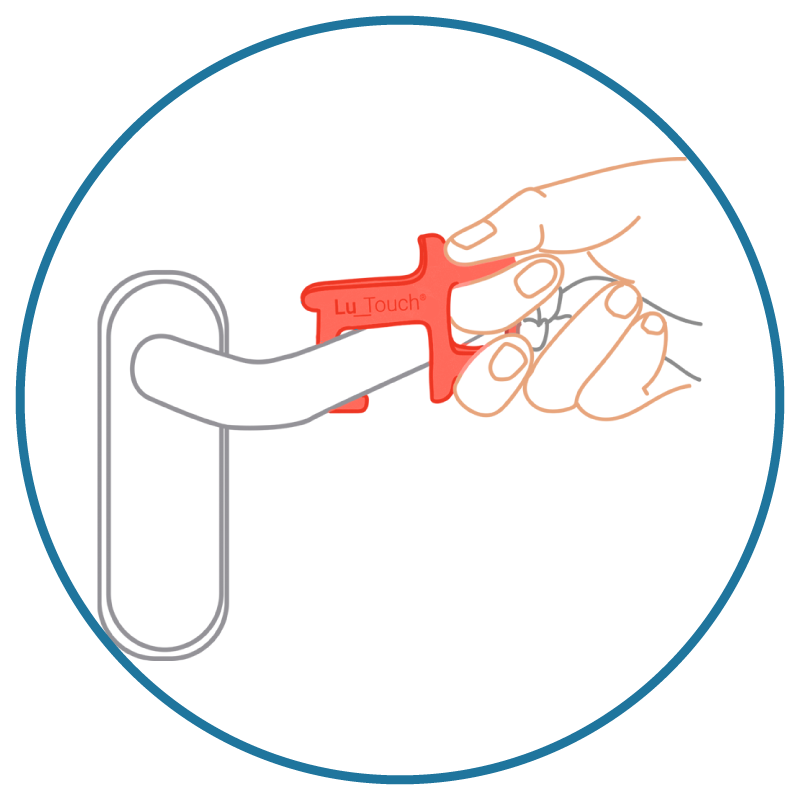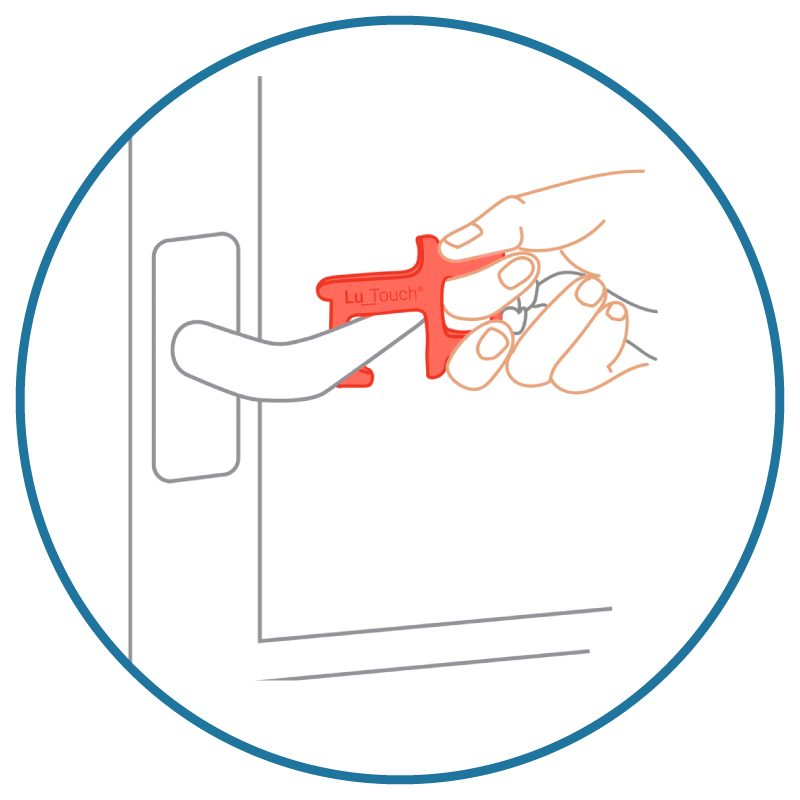 Opening of doors and windows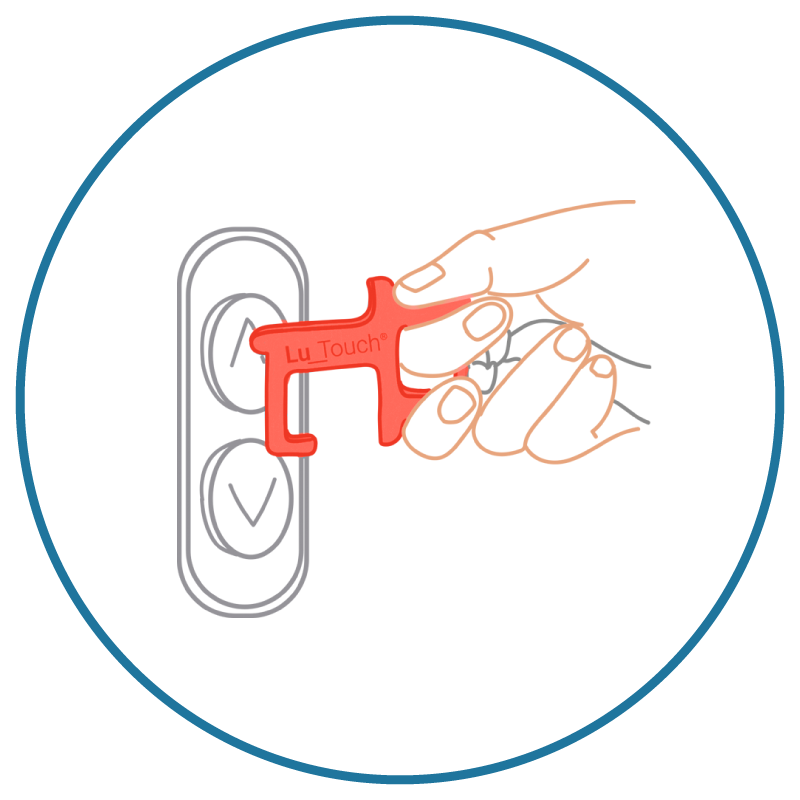 Pushing buttons and switches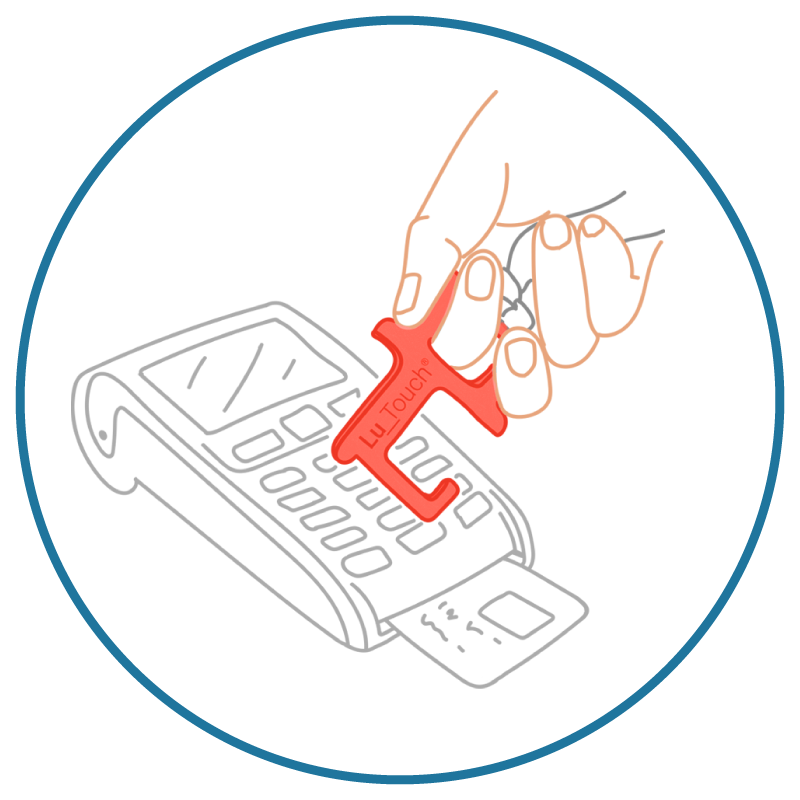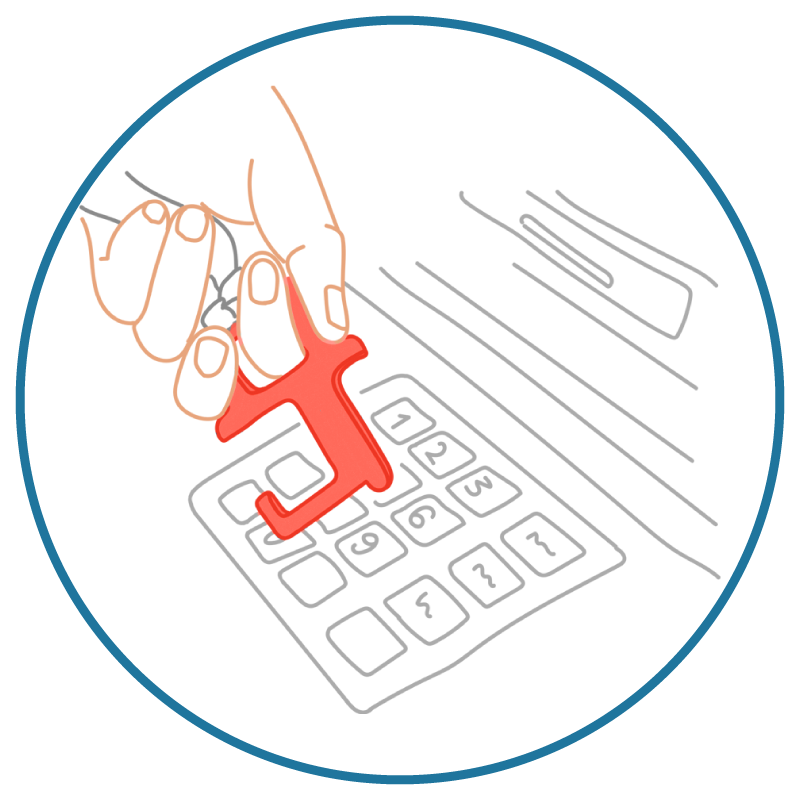 Also in POS and ATMs
LU_Touch® is ergonomically designed to be used safely and comfortably. It has a hole to be fixed with tape, extendable lanyard, etc.
Prevention of indirect contacts
The pandemic caused by COVID-19 (SARS-CoV-2) has one of its critical points in the high probability of human-to-human transmission. This can occur through direct contact between people or through indirect contact with contaminated or virus-carrying objects or surfaces.
To reduce direct contacts, the authorities in different countries have established different measures of social distancing and confinement, but transmission due to indirect contacts is more complicated to avoid because it fights against the subconscious and daily habits, such as touching one's face with one's hands, opening doors or pressing buttons and switches. Nor is the use of gloves really effective, as the gloves themselves can act as a contaminant vector when they come into contact with various surfaces.
Throughout the day any person makes multiple contacts in common areas, and therefore sources of transmission. Certain groups, such as healthcare personnel, are especially exposed to indirect contacts, as they are constantly pressing switches or buttons in lifts, opening doors, etc., and may perform up to 480 iterations throughout the day. The option of changing gloves every time one of these contacts is made would be unfeasible, and would also entail an unbearable expenditure of resources.
Another group that is especially exposed are the delivery men and women of transport companies, who can make over 150 deliveries a day, opening doors for various recipients, going up in elevators, pressing bells or switches, etc. These workers could carry out some 930 iterations of indirect contact per day, and could become a great vector or transmitter of the virus.
Therefore, LU_Touch® is a useful device to reduce and prevent most of this type of indirect contact, preventing our hands from acting as a contaminating vector.
LU_Touch® antibacterial includes
Lu Touch is available in two versions:
Basic: This version includes a LU_Touch® antibacterial and a Lanyard with a carabiner on one end. The Lanyard can be tied to the LU_Touch® antibacterial and, using the carabiner, it can be attached to clothing to always keep it within easy reach.


Premium: The premium version includes a LU_Touch® antibacterial and an Expandable Lanyard. The extendable lanyard allows the LU_Touch® antibacterial to be held by means of a ring (it is recommended to use this method if it is going to be used intensively) or by using the plastic strap with snap included. In addition, it can be attached to clothing using the carabiner or the rear clip on the Lanyard base. Thanks to its extendable format, LU_Touch® antibacterial can always be carried by hand and safely with a plus of comfort.

In addition, this format is delivered with an instruction book in a practical cardboard box that can be used to store LU_Touch® antibacterial after each use.